Corporate Gifts
An exclusive gift for your business partners, customers or employees. Give culinary moments with special products exclusively packaged. From a small gift to a large present - we will be happy to advise you!
Suitable gifts for meetings
Valuable customer loyalty
thanks exclusive gifts
Are you looking for a thoughtful gift to celebrate a successful conclusion of a contract or do you want to simply say "thank you" for many years of a good cooperation? We will be happy to create an individually present in a high-quality packaging.
Online Event &
Meeting Boxen

You have an upcoming online meeting or a digital press conference ahead that might take some time and therefor you want to treat your colleauges and/or guests? We will provide you with snack boxes in various sizes for such occasions. We are happy to help you with the product selection as well as national an internatiol shipping.
Appreciative
employee gifts
Whether for Christmas or Easter, after aOb zu Weihnachten oder Ostern, after a successful project, for a wedding, a birthday or an anniversary: we will put suitabel corporate gifts for your employees together. Each present is packed in high quality material and, if desired, provided with a personalised greeting card.
Individual shipping
by us
DHL, UPS, DPD o by courier within Hamburg: we will of course take care of the shipping of your ordered presents, both national and international.
Personalised greeting cards
and branding
We think that every gift should always be paired with a personal greeting. That's why it goes without saying to offer you the service to add personalised greeting cards to your ordered presents. It is also no problem to integrate your own branding. Feel free to contact us!
Birthday service for your employees
We all know about the importance of birthday wishes, but they sometimes can get los in the stress of meetings and the everyday life. High-quality present boxes or Hochwertige Präsentboxen oder kind gifts, on-time shipment national and international as well as personalised greeting cards are no longer a problem. Feel free to contact us!
Oschätzchen corporate gifts
what is the occasion
Persnal consulting service
We will take care of the entire conception and product selection, the packaging and, if desired, not only national but also international shipping.
Do you have any other questions regarding our corporate customer service, do you cannot find a fitting gift or do you have a large number of presents you want to order? Kathrin Rieckermann will be happy to advise you personally so that the process is uncomplicated and takes as little time as possible for you.

---
Your contact person for corporate gifts
Kathrin Rieckermann
Tel. +49 40 5936164-63
k.rieckermann@oschaetzchen.com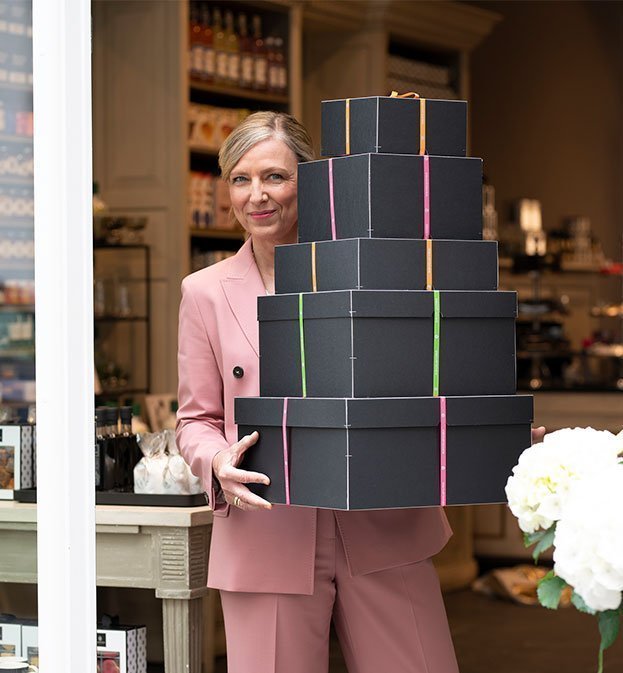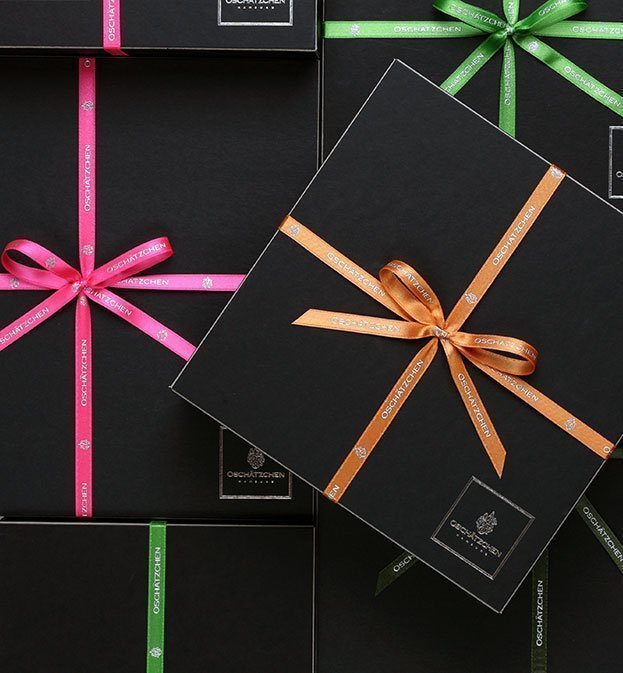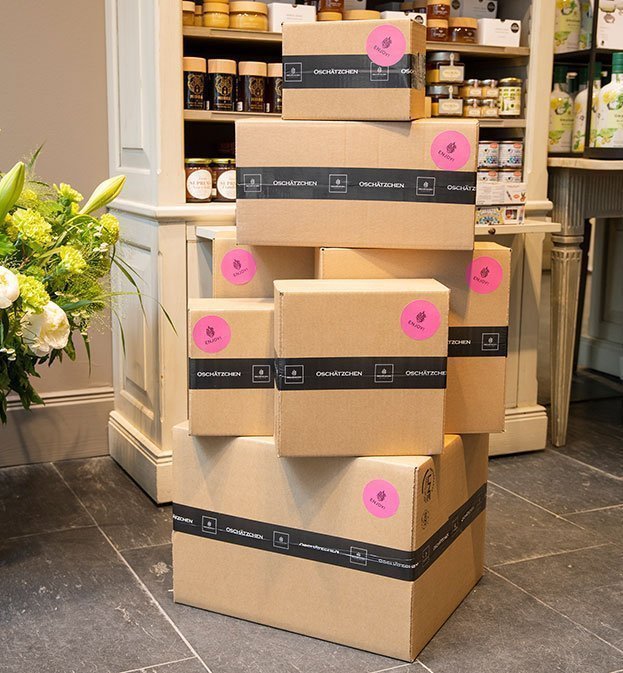 Beautifully packed and with personal greetings
When giving, the Oschätzchen boxes are a real eye-catcher: handmade, black boxes, looped with high-quality silk ribbon. When opened, the recipient will see our high-quality products beautifully wrapped in silk paper. Decide whether it should be colourful or kept in elegant black.
These are the presents our customers like the most
Are company presents deductible from tax?
In principle it is possible to claim presents and vouchers to business customers and employees for tax purposes.
At best, consult your tax advisor for the exact tax limits
Is it possible to send gifts to different recipients?
Of course this is possible. Just forward us the list of recipients and we will take care of the shipping.
Can I personalise the presents?
Individualise selected products and/or choose different colours for the silk paper and silk ribbon. You can also provide us with your company's own ribbon! For example, design your own banderole and choose between more than 25 different chocolate bars. We also add greeting cards to your presents.
Is it possible to add a personal message?
Of course it is possible to add personal messagess to your gifts.We will add cards with personal greetings to your presents for a small extra charge. It is up to whether you want them with or without a personal and handwritten salutation or a printed text without salutation. If you choose the printed version, the surcharge is 2,50 EUR. For cards with a handwritten salutation the surcharge is 5,50 EUR.
It is also possible to add other items to your present boxes that are not from our range.
How will the presents be wrapped?
Besides our high-quality products, it is important for us to provide the presents beautifully packed. All presents can be shippedd safely in a high-quality, handmade gift box, lined with silk paper and looped with silk ribbon.
Individual products can be beautifully wrapped in coloured silk paper. You can choose between our traditional black and white cord ribbon or your own silk ribbon.
Within Hamburg, you also have the option to send indivdually presents in a gift basket by courier. Of yourse we will take over the entire coordination.