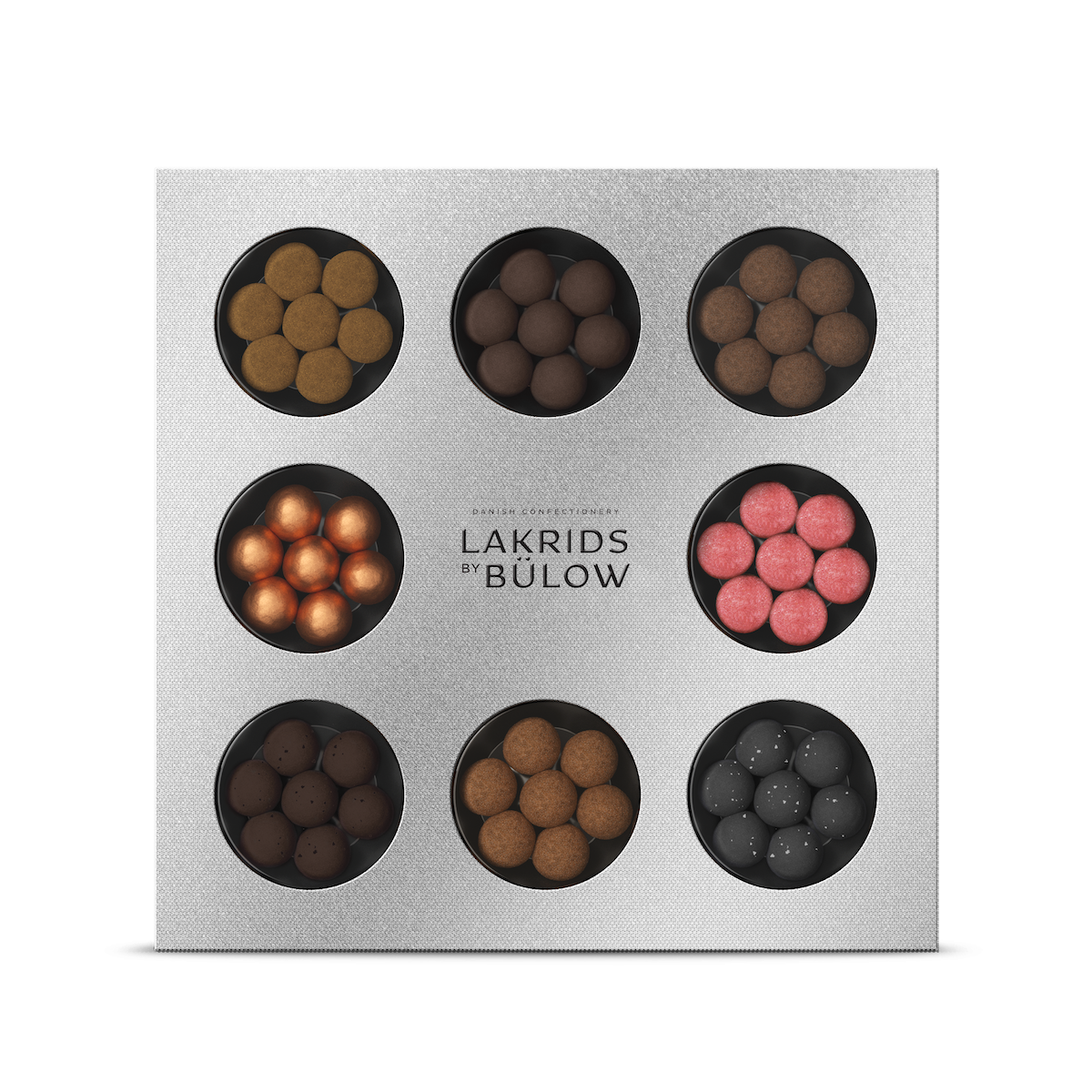 Lakrids by Bülow Selection Box Winter 2022 375g
€39.00
Content:
375
(€10.40 * / 100 Gramm)
10 x available, delivery time 2–4 days You need a higher quantity? Contact us here.
Die silberne Winter-Ausgabe der Lakrids by Bülow Selection Box enthält beliebte Klassiker als auch saisonale Favoriten in limitierter Auflage – perfekt zum Verschenken und selbst genießen! Die Selection Box enthält folgende Sorten: A - The Original, C - Coffee Kien, D - Salt & Caramel, F - Dark & Sea Salt, Christmas - Butter Cookie, Classic - Salty Caramel, Golden - Raspberry and AEGG - Crispy Caramel. Genießen Sie alle Favoriten vereint.

Gluten-Free
Ingredients:
61% Dulce, Milch-, Weisse Und Zartbitterschokolade (EU) (Zucker, Kakaobutter, Milchpulver, Kakaomasse, Molkenpulver, Milchfett, natürliche Aromen, Emulgator: Sojalecithin), Zucker, Reismehl, Invertzucker, Melasse, Glukosesirup, 3% Süssholzextrakt (nicht-EU), Rapsöl, Fruchtpulver (Himbeere, Erdbeere (Gefriergetrocknet)), Überzugsmitteln (Karnaubawachs, Gummiarabikum, Schellak), Salz, Meersalz, geröstet und gemahlenen Kaffeebohnen (Kenia, Kieni), Zimt (gemahlen), Karamell (Zucker, Glukosesirup, Sahne, gesalzene Butter, Magermilchpulver, Meersalz), Dextrose, Farbstoffe (Eisenoxid, Calciumcarbonat), Kakaobutter, Stabilisator: Gummiarabikum, alkalisierter Kakao, Anisöl, natürliche Aromen. Mindestens 31% Gesamtkakaotrockenmasse enthalten.
Potenziell allergene Substanz: Milch und Soja.
Nutritional values:
| Menge (g) | pro 100 |
| --- | --- |
| Energie (kJ) / Brennwert (kcal) | 1950 / 465 |
| Eiweiß (g) | 4,8 |
| Fett (g) | 21 |
| davon gesättigte Fettsäuren | 12 |
| Kohlenhydrate (g) | 66 |
| davon Zucker (g) | 49 |
| Ballaststoffe (g) | 0,0 |
| Alkohol (g) | 0,0 |
| Salz (g) | 1 |