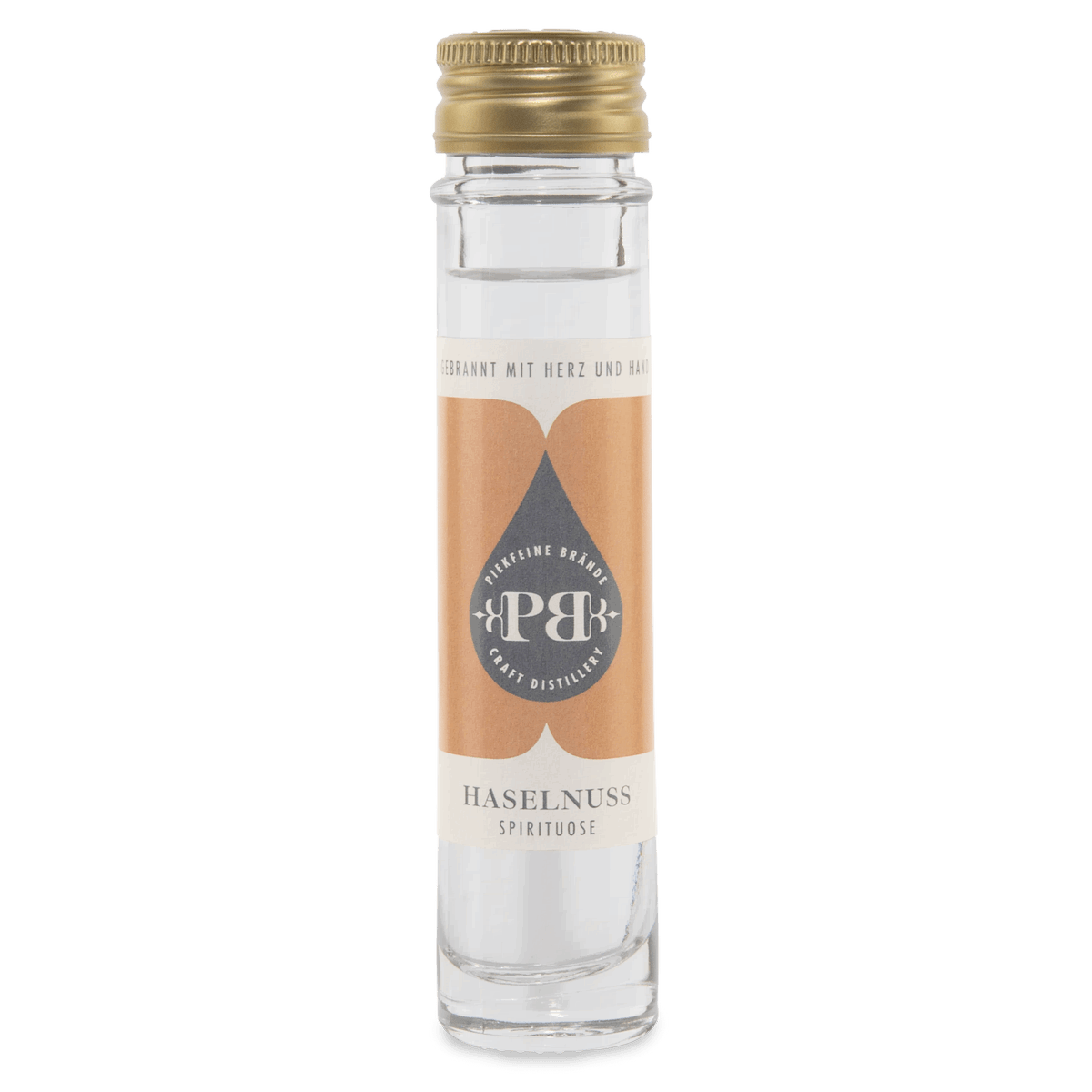 Piekfeine Brände Haselnussgeist 50ml
€10.90
Content:
0.05 Liter
(€218.00 * / 1 Liter)
2 x available, delivery time 2–4 days You need a higher quantity? Contact us here.
Weight incl. packaging: 0.2kg
Attention:
The sale of alcoholic beverages to persons under the age of 18 is prohibited by law. By Order of alcohol in our online store, you warrant that you have passed the age of 18 years and are therefore entitled to purchase spirits.
Die Samen der Haselnuss enthalten rund 60 % fettes Öl, keinen Zucker und keine Stärke. Sie werden in gerösteter, geschälter und zerkleinerter Form in Neutralalkohol eingelegt (mazeriert). Das Aroma der Frucht geht in den Alkohol über. Diese Masse wird dann destilliert. Anders als beim Brand, wird beim Geist weniger Haselnuss benötigt. Süß-nussig, starke Nuss-Nougat-Note, Nuancen von Schokolade und Vanille, likörig.
Birgitta Rust steht mit ihren PIEKFEINEN BRÄNDEN für allerhöchste Qualität und handwerkliche Perfektion. Beste vollreife Früchte wie Williamsbirne, Waldhimbeere, Mirabelle und Zwetschgen sowie feinste, hocharomatische Hasel- und Walnüsse verarbeitet sie in edelste Tropfen.
Alkoholgehalt: 40 % vol.

Gluten-Free

Lactose-Free

Vegan
Ingredients:
Fassgelagerter Nussgeist aus gerösteten Haselnüssen aus dem Piemont. Alkoholgehalt: 45 % vol.
Responsible food company:
Birgitta Rust – Piekfeine Brände e. K.
Hoerneckestraße 3
28217 Bremen