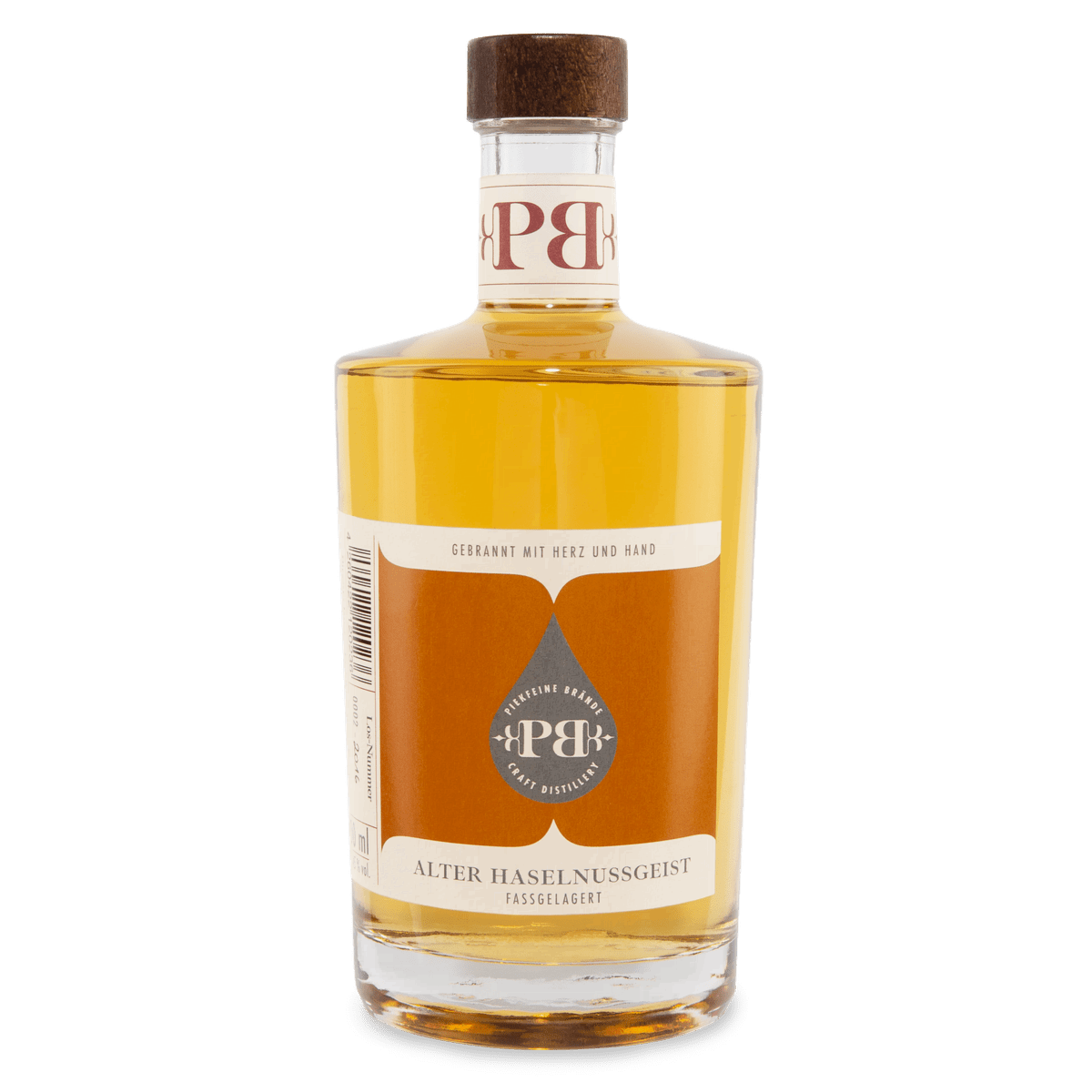 Piekfeine Brände Haselnussgeist aus Bourbonfass 350ml
€52.90
Content:
0.35 Liter
(€151.14 * / 1 Liter)
2 x available, delivery time 2–4 days You need a higher quantity? Contact us here.
Weight incl. packaging: 0.76kg
Attention:
The sale of alcoholic beverages to persons under the age of 18 is prohibited by law. By Order of alcohol in our online store, you warrant that you have passed the age of 18 years and are therefore entitled to purchase spirits.
Dieses Haselnussgeist reift 1 Jahr in einem Whisky-Bourbon-Fass und bekommt seine goldgelbe Farbe. Dieser Geist gehört mit seinen 45 % Volumen zu den sogenannten Zigarrenbränden, eine Kategorie von Bränden, die fassgelagert und hochprozentiger sind. Ein Haselnussgeist dieser Machart ist eine absolute Novität in dieser Kategorie. Nase klare Nussnote, Nuancen von Vanille. Ausgewogenes Verhältnis zwischen Haselnussaromen und der Fassnote, aromatisch, komplex.
Birgitta Rust steht mit ihren PIEKFEINEN BRÄNDEN für allerhöchste Qualität und handwerkliche Perfektion. Beste vollreife Früchte wie Williamsbirne, Waldhimbeere, Mirabelle und Zwetschgen sowie feinste, hocharomatische Hasel- und Walnüsse verarbeitet sie in edelste Tropfen.
Alkoholgehalt: 45 % Vol.