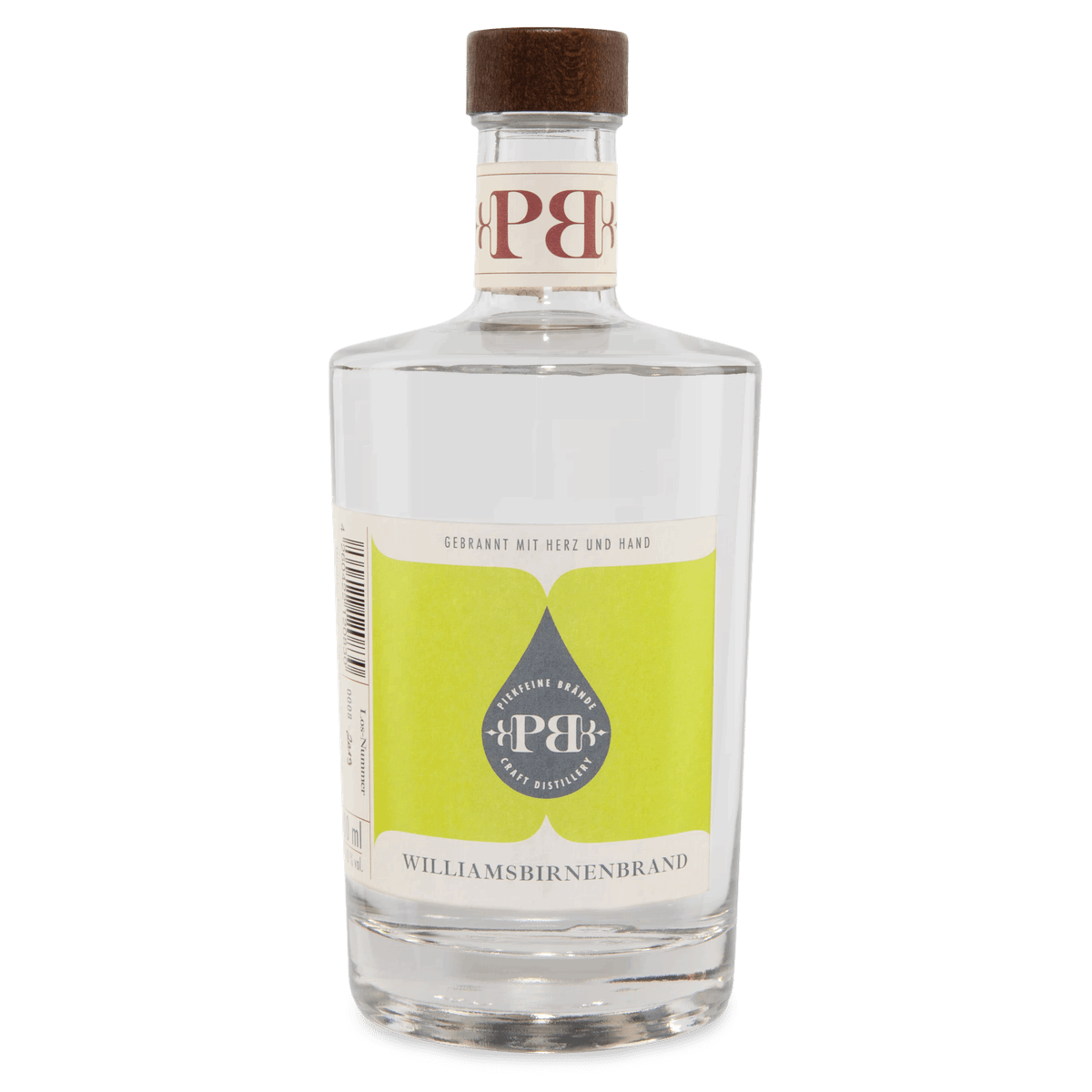 Piekfeine Brände Williams-Birnenbrand 350ml
€35.90
Content:
0.35 Liter
(€102.57 * / 1 Liter)
8 x available, delivery time 2–4 days You need a higher quantity? Contact us here.
Weight incl. packaging: 0.76kg
Attention:
The sale of alcoholic beverages to persons under the age of 18 is prohibited by law. By Order of alcohol in our online store, you warrant that you have passed the age of 18 years and are therefore entitled to purchase spirits.
Die Williams-Birne -Königin unter den Birnen- ist mittlerweile in Europa und den USA verbreitet. Sie reift je nach den klimatischen Bedingungen von Ende August bis Ende September. Die Williams-Birne dieses Edelbrandes stammt zu gleichen Teilen aus Oberösterreich sowie aus dem Frankenland undwerden vollreif geerntet. Für einen Liter Williams-Birnenbrand benötigt man rund 11 kg Birnen.
Sensorik: Nase: Elegantes und feines Birnenaroma. Duft nach frisch geschnittenem Gras. Fruchtig-frische Zitrus-Minze-Noten. Erinnert an kräftigen, frischen Weissburgunder Gaumen: Die frische Birne zeigt im Mund ihre Reife. Das volle reife Birnenaroma wird von feiner Schärfe elegant in der Schwebe gehalten.
Birgitta Rust steht mit ihren PIEKFEINEN BRÄNDEN für allerhöchste Qualität und handwerkliche Perfektion. Beste vollreife Früchte wie Williamsbirne, Waldhimbeere, Mirabelle und Zwetschgen sowie feinste, hocharomatische Hasel- und Walnüsse verarbeitet sie in edelste Tropfen.
Alkoholgehalt: 40 % vol.