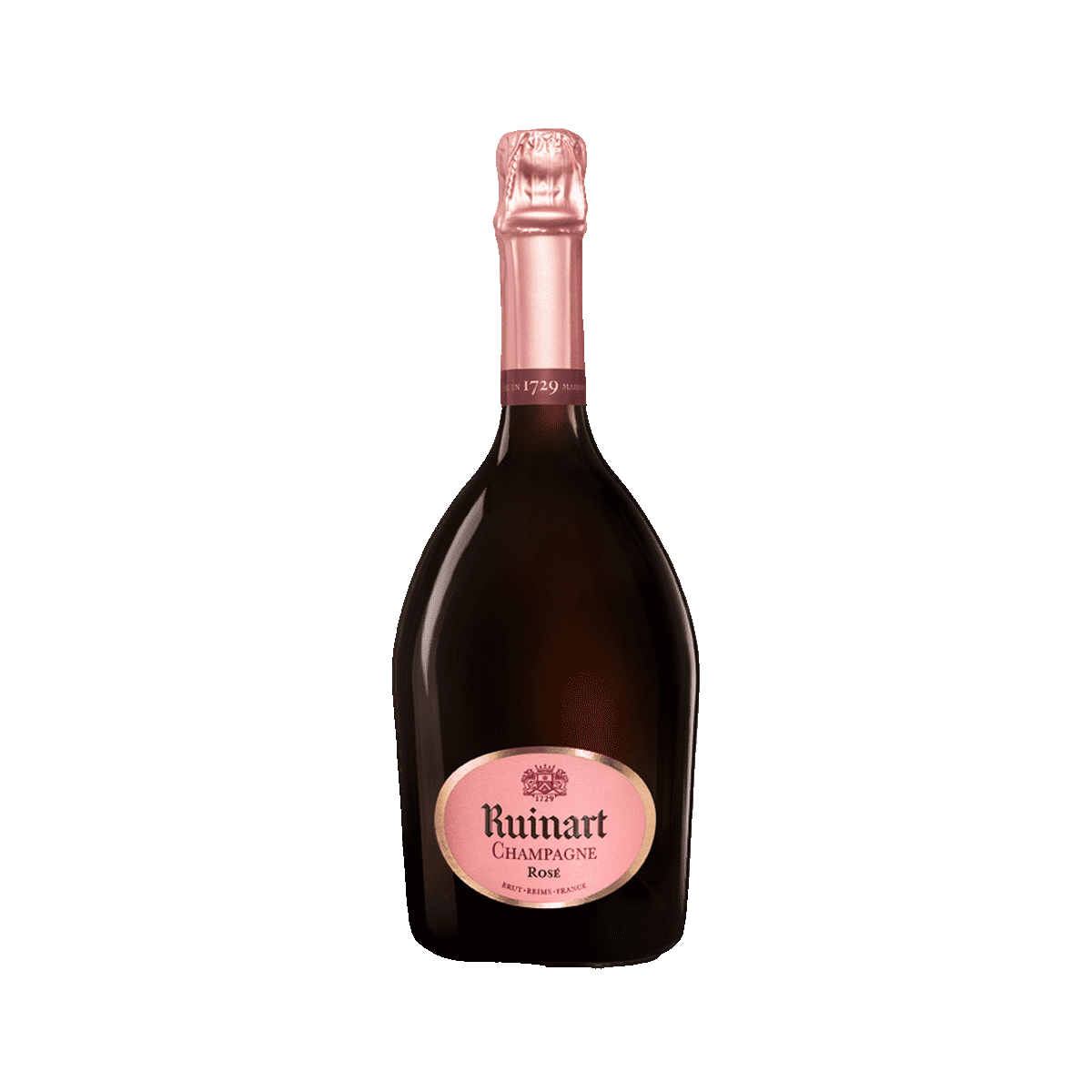 Ruinart Champagner Rosé 0,75l
€89.90
Content:
0.75 Liter
(€119.87 * / 1 Liter)
Weight incl. packaging: 1.66kg
Attention:
The sale of alcoholic beverages to persons under the age of 18 is prohibited by law. By Order of alcohol in our online store, you warrant that you have passed the age of 18 years and are therefore entitled to purchase spirits.
Der Rosé Champagner aus 45 % Chardonnay, 55 % Pinot Noir, davon 18 % als Rotwein vinifiziert: so lautet das Geheimnis seiner delikaten Finesse. Doch zuerst besticht sein aparter, fast an korallenrot erinnernder Farbton, der eine subtile Nase mit dem Aroma frisch gepflückter Kirschen und roter Beeren ankündigt. Am Gaumen herrscht der Eindruck eines ausgewogenen, köstlich fleischigen Champagners vor, frisch und geschmeidig zugleich. Mit Speisen wie z.B. andalusischem Gazpacho, Sashimi aus rotem Thunfisch oder auch einer Erdbeersuppe lässt er sich wunderbar kombinieren.

DIE CUVÈES VON RUINART
Am Anfang war die Chardonnay-Traube. Modern, distinguiert, rein. Ihre Finesse gibt den Ton an. Der komplexe Ruinart-Geschmack ist das Ergebnis einer Philosophie, die gestern wie heute die gleichen Zielsetzungen verfolgt: Originalität, Geschmackserlebnis, intensive Sinnesfreuden, kurz: ein einzigartiger Stil. In ihren unverwechselbaren Flaschen zeugen alle Champagner der Marke von einem beispiellosen Know-how: die komplizierte Kunst der Assemblage.
Ob 'R' de Ruinart, Ruinart Blanc de Blancs oder Ruinart Rosé, alle Cuvées der Marke besitzen die charakteristischen Merkmale: fein perlender, lebhafter Schaum, der in einem leichten, beständigen Band aufsteigt, außergewöhnliche Reinheit und Frische. Doch zugleich hat jede Sorte ihre unverwechselbare Aromenvielfalt und eine einmalige Persönlichkeit.
Ingredients:
45 % Chardonnay, 55 % Pinot Noir
potentiell allergene Substanz: Sulfite
Alkoholgehalt: 12,5 % vol.

Responsible food company:
Champagne Ruinart
4 Rue des Crayères
FR-51100 Reims